News
You are here :
Home
» News
Happy Mid-Autumn Festival,2015
When the summer heat has not dissipated, autumn is coming quietly. MIFIA team usher in the Mid Autumn Festival dinner in this Sept.,for this special time, let everybody in MIFIA team has a joyous gathering and share the beautiful scenery of autumn, the warmth of autumn, the harvest of autumn.
Before dinner, MIFIA's leader Cathleen expressed a holiday greetings to all companions ,made a best wishes to their family,wish them happy and health.Also thanks for everyone's supporting and contributions to the company. Said MIFIA is a place like home . MIFIA has a brilliant yesterday, in the joint efforts of everyone,the tomorrow of MIFIA will be more full of life and hope!
In the cheers and laughter, everyone is enjoyable to taste a hearty meal.At the meal, MIFIA companions exchanging their feelings to each other,talking about MIFIA dream!


By the way,Do you want to know the origin of this festival ,to know about Chinese? If you are interested in it ,below it's the story .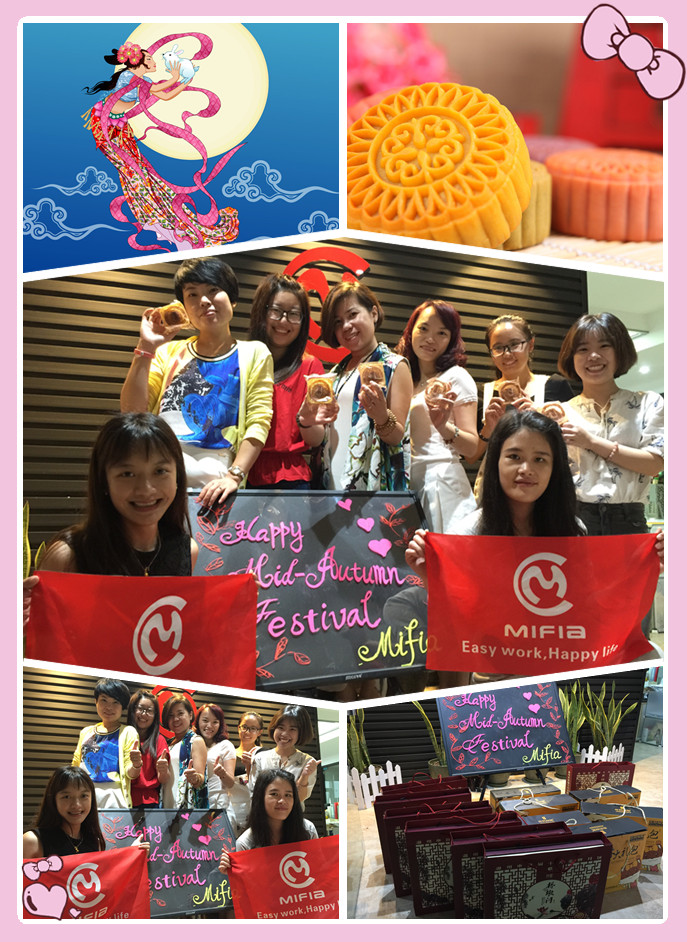 The most well-known stories of the Mid-Autumn Festival is Chang'e flying to the moon.Long long ago,there used to be 10 suns in the sky and made a disaster.Luckily,a man named HouYi shot down the suns leaving only one to benefit people.One day when Hou Yi was on the way to visit his friend, the Queen Mother of the West gave him an elixir of immortality as a reward for his heroic undertaking,meanwhile ,she told him,"Do not swallow this pill before preparing yourself with prayer and fasting for a year".After Houyi went back home,he gave the medicine to his wife--Chang'e to keep.But one of his apprentice who named Pengmeng knew this and made a plan to steal it.Several days later, when Hou Yi and other apprentices went out for hunting, Peng pretended to fall ill and stayed at home. After they left, Peng forced Chang'e to give him the elixir. Chang'e, knowing that she could not defeat Peng, swallowed the elixir herself, and immediately she felt herself floating up and flied to the sky. With deep love to her husband, Chang'e chose to be an immortal on the moon, closest to the earth; then she could see her husband every day.
In late afternoon, Hou Yi came back and was told what had happened. Heart-stricken, Hou Yi went to the back garden and called his wife's name ceaselessly. Surprisingly, he found that the moon was extremely clean and bright that night; and that there was a moving figure like Chang'e in the moon. Hou Yi desperately tried to catch up with the moon, but he could not do it. Hou Yi then asked servants to set a table in his back garden and with his wife's favorite snacks and fruits on it. In a short time, more and more people heard about the news that Chang'e had become an immortal, and they also put tables under the moon to pray to Chang'e for good fortune and safety. From then on, the custom of worshiping the moon on the Mid-Autumn Festival began to spread in China.